Animal Tracking. Smart Bingo. Captain Smart
Opis
Spin the wheel and set off on an adventure with nature!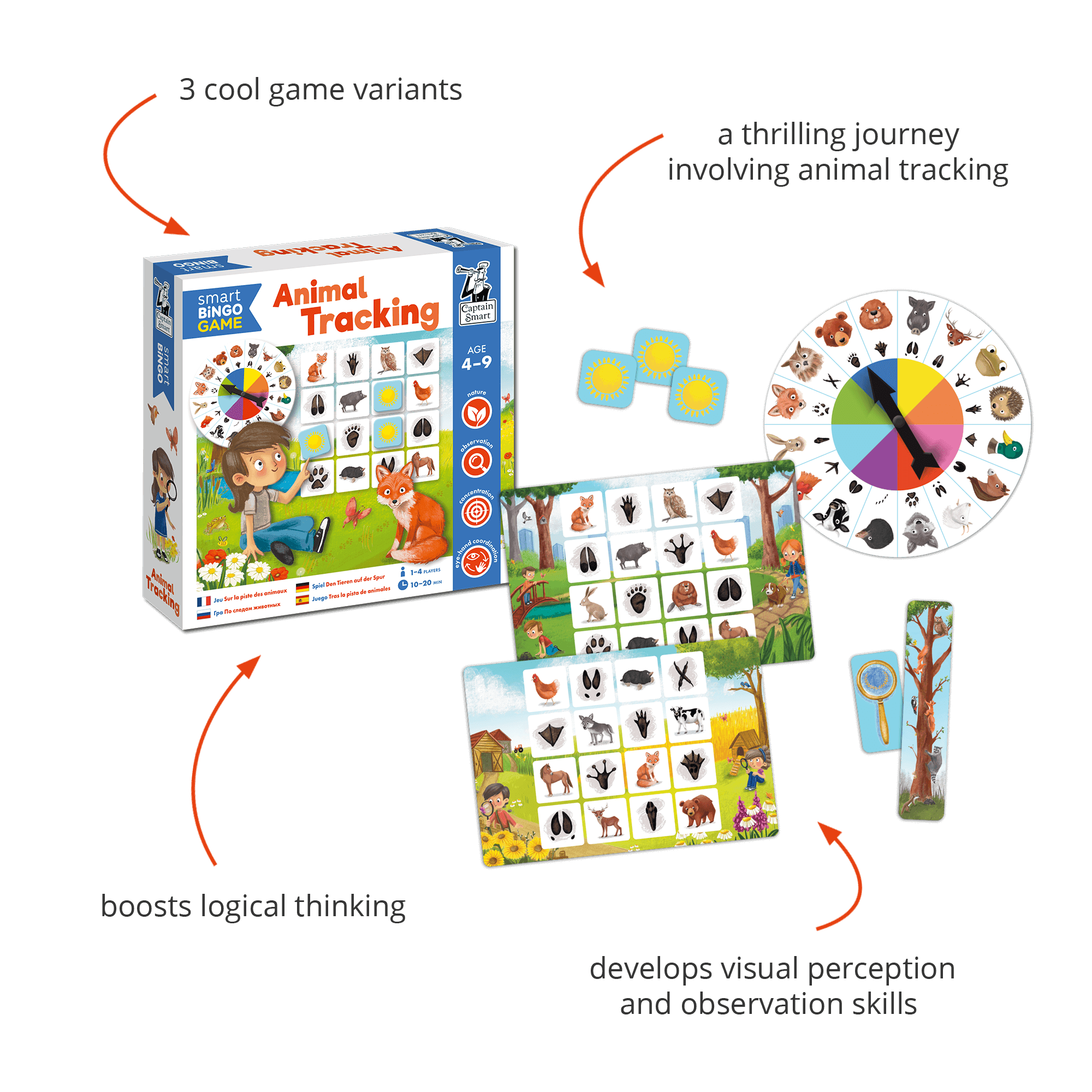 Become a tracker – play alone or with your family! Focus your mind and spot animals living in the forest, park, meadow and farm, all while training your eye-hand coordination. Who will be the tracking champion and win the trophy?

  Werde Fährtensucher – spiele alleine oder mit der Familie! Konzentriere dich und finde die Tiere, die im Wald, im Park, auf der Wiese und auf dem Bauernhof leben, wobei du die Auge-Hand-Koordination trainierst. Wer wird Meister im Wahrnehmungsvermögen und gewinnt die Trophäe?

  Deviens traqueur – joue seul ou en famille ! Concentre-toi et trouve les animaux qui vivent dans la forêt, le parc, les prés et à la ferme, exerçant ainsi ta coordination œil-main. Qui sera le champion de l'observation et remportera le trophée ?

  Стань следопытом – играй сам или с семьей! Сосредоточься и найди домашних животных, живущих в лесу, парке, на лугу и на ферме, тренируя зрительно-моторную координацию. Кто станет чемпионом по наблюдательности и завоюет трофей?

  Conviértete en rastreador: ¡juega solo o con tu familia! Concéntrate y encuentra animales que viven en el bosque, el parque, el prado y en la granja, entrenando la coordinación ojo-mano. ¿Quién se convertirá en el campeón de la observación y conseguirá el trofeo?
Captain Smart products support the development of skills essential for children in the 21st century, helping them improve their concentration and solve other problems they face on a daily basis. A great alternative to computer or smartphone games!
This game develops the following SKILLS
nature
observation
concentration
eye-hand coordination